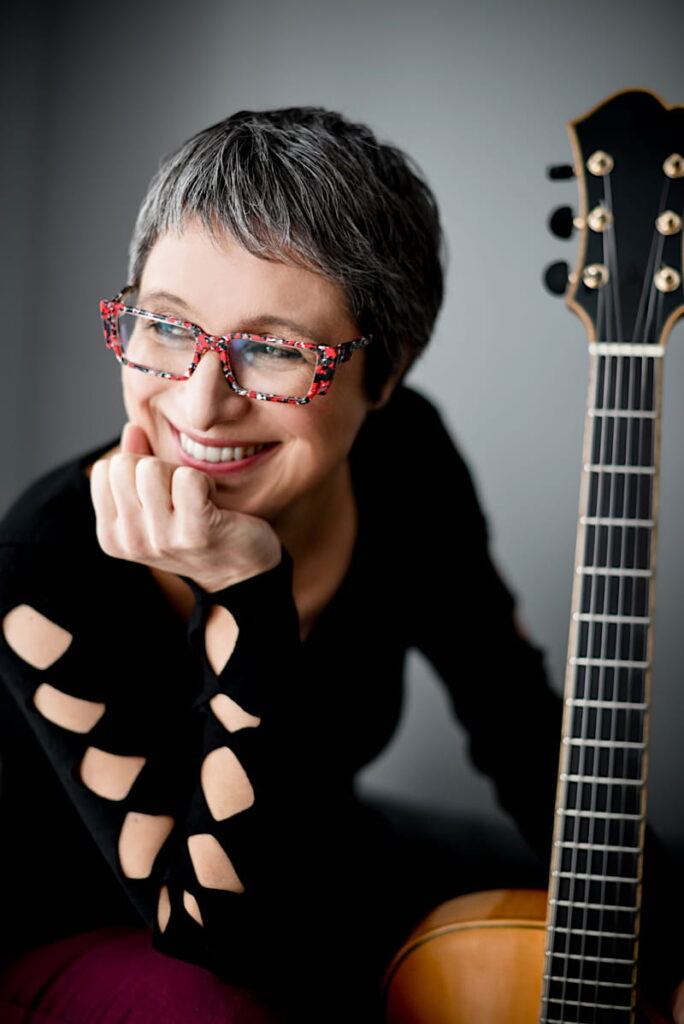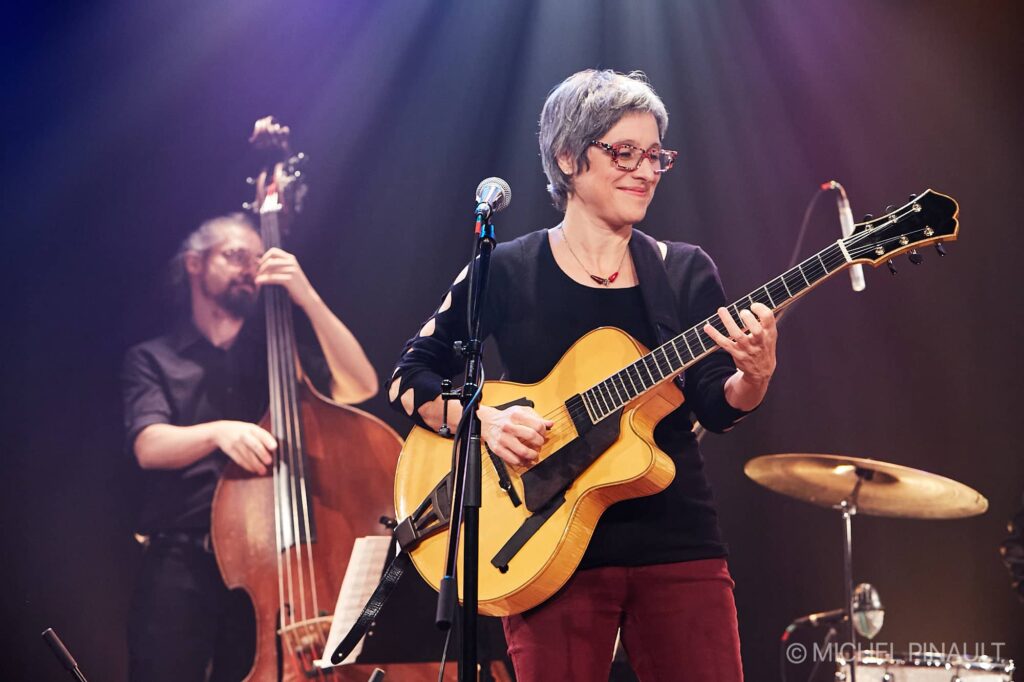 For more than 20 years, Christine Tassan, an outstanding guitarist, has been steering her ship with boundless enthusiasm and confidence. Blessed with an absolutely contagious dynamism, she is one of the rare female jazz and gypsy jazz guitar soloists; and she stands out for her sensitive playing, her quiet strength, and her irresistible audacity. As a singer, composer, writer, director, and producer, she has contributed to numerous musical projects in Quebec and internationally, both as a leader and as a guest musician (most notably with The Lost Fingers, Paul Kunigis, Le trio Martin Bellemare and Canto Tango).
Trained in classical guitar, she quickly became interested in many styles, studying folk, pop, jazz and developing an early and obvious talent as a singer-songwriter. Her interest in gypsy jazz, jazz and improvisation was definitely triggered by her discovery of Django Reinhardt's music in 1998, a style she learned by joining the classes of masters such as Angelo Debarre, Emmanuel Kassimo or Yorgui Loeffler.
In 2003, she founded her gypsy jazz and swing band, Christine Tassan et les Imposteures. The band was an immediate success and became an unmissable part of the gypsy jazz scene. Unique in its kind, this all-woman band (for many years) has performed in over 600 festivals and venues in Quebec, Canada, Europe, the United States and China. Each time enthusiastically received by the public and the media, the band was applauded at the Montreal International Jazz Festival, at the prestigious Django Reinhardt Festival in Samois-sur-Seine (France) and at the famous DjangoFest NorthWest (USA). The quartet has 7 albums to its credit, including "Entre Félix et Django" which was awarded the Opus Prize for "Jazz Album of the Year" in 2017 as well as a nomination for "Show of the Year" in 2018. "Django Belles", their most recent release in 2018, incorporated two new female musicians on horns for an original ode to Quebec winter.
Always looking for new horizons, Christine studied composition and jazz arrangement at Berklee College of Music in 2014. In 2020, in parallel to the saga of Les Imposteures, she conceived Voyage intérieur, a new quintet project. This inner journey gathers ten instrumental compositions, fruits of an introspective and musical research at the same time. Aficionados will discover a new facet of the guitarist, in her exploration of electric and bebop sounds. This album is nominated in 2021-2022 for "Jazz Album of the Year" at the Juno Awards, ADISQ, Prix Opus and GAMIQ !
Recognized for her teaching and communication skills, Christine has also been a member of the Django in June teaching team since 2013. Django in June is a music camp that annually brings together more than 200 gypsy jazz enthusiasts in Northampton (Massachusetts, USA). Christine Tassan regularly gives courses and master classes in Quebec and abroad.