Recognized for her pedagogical skills, Christine gives private guitar lessons in Montreal (in person or by internet). She can also organize a group workshop on request. She teaches guitar at Cégep du Vieux-Montréal in cultural worshops and at the Django In June music camp (Massachussetts, USA).
Private course: Gypsy jazz, jazz, pop or classical guitar
Christine gives private guitar courses in Montreal. Her preferred field is gypsy jazz and jazz, but depending on the style the student wishes to develop, she can also teach classical guitar, electric guitar, song accompaniment, as well as harmony, solfege and music theory. In short, she adapts her teaching to your needs and tries above all to give you the pleasure to play music!
Gypsy jazz guitar workshops in group – on request
On request, Christine offers workshops of gypsy jazz group, as part of a festival, a university course etc.
Workshop / Masterclass with Christine Tassan et les Imposteures
Length: 60 to 120 min (flexible)
Participants: up to 15 students per workshop
Required : each student must bring his or her musical instrument, note taking material or a recording tool.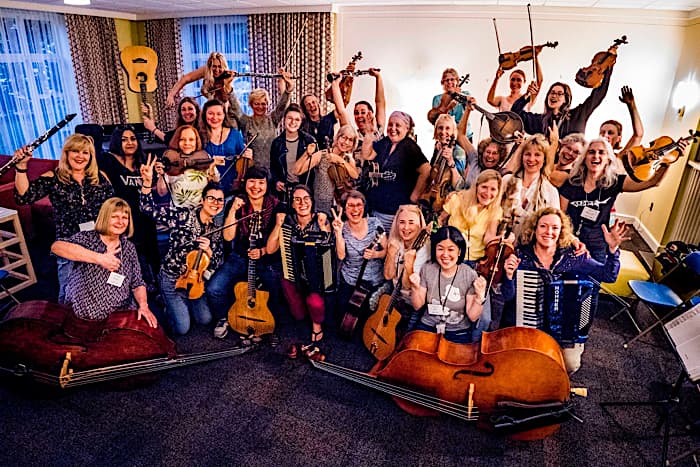 (Photo Jeffrey Mac Millan: Django musical summer camp where Christine has been teaching since 2013)
Christine Tassan et les Imposteures offer group workshops for musicians eager to learn gypsy jazz or improve their playing. These workshops can be given in the context of a festival, at a university, in a concert hall or conservatory – as a complementary activity to an evening show. Workshops can take a number of forms:
Workshop attended by the four band members
A workshop designed particularly for guitarists, violinists and double bassists, our instruments. Nonetheless, anyone playing a melodic instrument (clarinet, accordion, and mandolin) will benefit from this teaching.
In turn, each band member will present their instrument characteristics and its playing as it relates to the gypsy jazz style. The topics we'll cover are guitar rhythm, double bass accompaniment, guitar and violin solo playing. One or two standards will be taught to participants before they are played in a jam-session led by the four musicians.
It will be also an opportunity to learn more about the band's history, each member's musical background, the instruments played in gypsy jazz and their role in building up melody and beat…
Specific instrument workshop
Each band member can also give workshops specific to their instrument and tailor them to students who already have a good knowledge/practice of that instrument:
Solo and rhythm guitar workshop
Violin/mandolin workshop
Bass/double bass workshop