Length: 60 min (flexible)
Audience: 100 to 300 schoolchildren or more if the venue allows for it

Christine Tassan et les Imposteures has always been invited to play for younger audiences. Young spectators are spontaneously fond of gipsy jazz and swing music probably because they can see themselves in this lively, dynamic, fast-paced, bewitching groove!
Tha band offer an indoor/stage show designed for younger audiences (primary and secondary schools) for which the band has adapted their repertoire for both English or French schools. Songs and pieces we perform will get the audience in the mood for moments of shared pleasure! We ask participants to sing along catchy choruses (in French or English or both) and to give us a hand by clapping and tapping their feet… We quiz them to recognize several famous film scores (James Bond, Mission Impossible, Spiderman…) or videogame soundtracks (Mario Bros and others) which we've arranged swing style!
We've crafted this show to introduce young people to the world of Gypsies –– "Roms" as they call themselves, and in particular to the "Manouches" group; and to talk about two artists: Django Reinhardt (guitarist) and Stéphane Grappelli (violinist). These two mythical musicians are founders of the style now known as gypsy jazz or gypsy swing. We show its main instruments (violin, guitars, and double bass) and their peculiarities compared to classical instruments.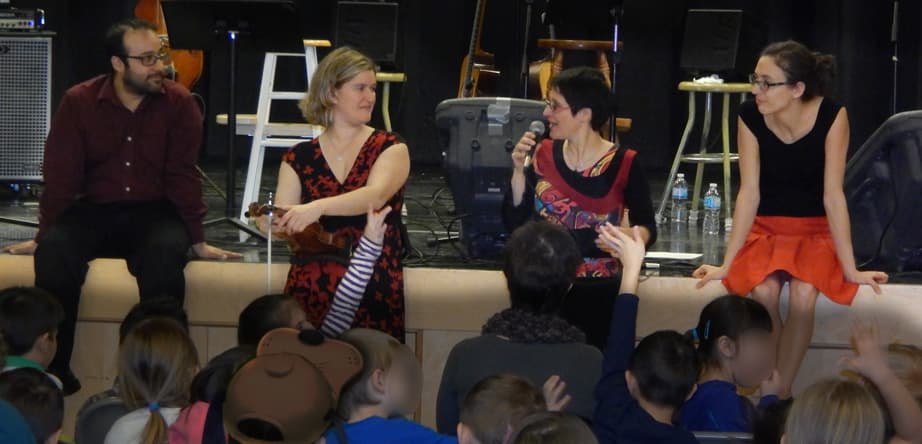 Young audiences always enjoy our relaxed questions/answers period ending the show. We sit on the edge of the stage close to our public, ready to answer their many queries about our musical backgrounds and influences, the history of the band or what it is to be a performing and touring musician…
School and academies workshops
Music workshop
Length: 60 min (flexible)
Participants: up to 15 schoolchildren per workshop.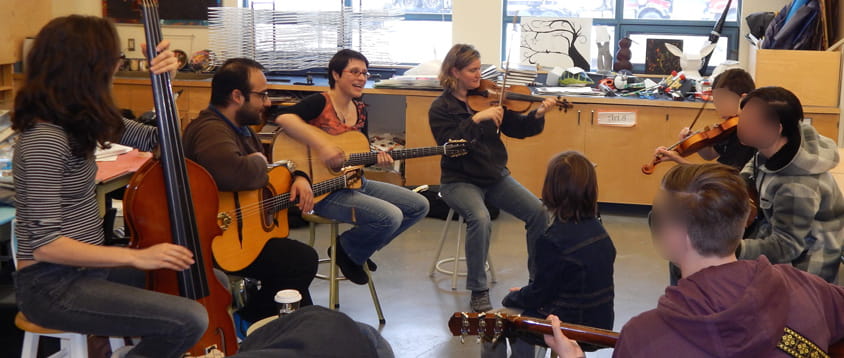 A workshop aimed at a group ofyoung people who can already play an instrument, mainly the guitar, the violin or the double bass (or electric bass). We'll give them an introductory course to gypsy jazz and improvised music. For young guitarists, that usually means learning of the rhythm we call "the pump", as well as some typical chords of the style around a basic theme. With young violinists (or any other melodic instrument such as flute, clarinet, saxophone), we will stick to learning a simple theme. Young bassists will learn the typical accompaniment of the bass for a simple piece.
Afterwards, kids and band members will play a standard theme from the gypsy jazz repertoire. Usually, we lead them to try improvising a melody at will.
Discovery workshop
Length: 60 min (flexible).
Audience: up to 30 students.
A workshop we've designed for primary/secondary schoolchildren (whether they're musicians or not). It is conceived to introduce youngsters to gypsy jazz and the world of Gypsies, and to Django Reinhardt and Stéphane Grappelli through enjoyable interactions between students and band members.
For this workshop, we've actually adapted our stage show to a small group of people (max 30): for the acoustic performance of our songs, we involve our young participants (singing, beat, recognition of melodies, games) while we tell them stories about the band.
Kathleen Hicks, programmatrice de Eastern Labrador Arts Alliance (mars 2015):
« We had such a great time with les Imposteures! The school show was wonderful. There were 105 in attendance for that show – age Kindergarten to Grade 6. CBC Radio did a report interviewing some french immersion students as well as Christine Tassan and getting a sound clip from the show. The students talked about how important it was to hear live french music and be exposed to french culture. The entire show was in french – a rare occasion for Goose Bay! ».
John Bart, programmateur de Lakes Disctrict Arts Council (février 2016):
« Christine and the other band members demonstrated thoughtful preparation and skill in designing and presenting their school shows, with just enough tunes the kids would recognize (theme songs from Mission Impossible and a James Bond film wrapped around Puttin' on the Ritz, and the Super Mario theme) to help the students relax and enjoy the shows. There was even a song about 'Arsenic Pudding', from an Asterix cartoon! Kids were clapping along, and one youngster near me was almost vibrating with his excitement and enjoyment of the music, as he drummed and hummed along to every moment of every tune.
The Monday afternoon workshop was well attended by kids who wanted to watch, listen and meet the members of the band, and by young people who brought their instruments, ready to learn and to play. With the latter, all four members of the group showed sensitivity and skill working with individual players. Within an hour the kids were able to play the chords and basic notes of the Django standard Minor Swing. As the hour came (quickly) to an end, the young people played the basic architecture of the song through, accompanied by the four members of the band. When the song finished, the rest of the workshop audience applauded the kids' learning, skill and 'bravery'. »