Christine Tassan et les Imposteures
Gypsy jazz and swing songs
Sur la route
Title song of the new album
Album release: February 23, 2024
Launch at the Lion d'Or (Montreal) on February 26, 2024 – Book your tickets
Launch at Palais Montcalm (Quebec) on March 16, 2024 – Book your tickets
With over twenty years of bringing their special blend of Gypsy jazz and revisited cover songs to audiences, Christine Tassan et les Imposteures have made a name for themselves on the music scene.
Pioneers in a domain usually reserved for men and precursors of the gypsy wave that swept across Québec, this quartet led by guitarist Christine Tassan continues to reinvent this timeless music while integrating new ideas and influences with an originality and flair we have become familiar with. From standards to original compositions, the Imposteures' musical arrangements innovate, rejuvenate and leave room for unbridled creativity from four talented and accomplished musicians.
With 7 albums and more than 700 concerts in various venues and festivals, including numerous appearances in major events and tours across Canada, Europe, USA and China, they have cultivated the adoration and loyalty of an ever growing fan base. We have had the chance to see them at the Montreal International Jazz Festival, at the Django Reinhardt Festival in Samois-sur-Seine (France), at hte Liberchies Django Festival (Belgium) and at the North-West Django Fest (USA). Their album "Entre Félix et Django" received the Opus Award for Jazz Album of the Year in 2017 and was nominated in the Show of the Year category in 2018. Since 2020, the group has been presenting a Christmas show titled "Django Belles," which has become an annual tradition.
In 2023, the group offers an entirely new show titled "On the Road", retracing 20 years of tours and adventures! The album will be released in February 2024.
ON THE ROAD: A NEW SHOW FOR 2023-2024 !
The new show On the Road revisits twenty years of adventures and tours, taking you from the Great Wall of China to Stanley Park in Vancouver, from snow-covered Rockies to the charming Samois-sur-Seine of Django Reinhardt. A captivating musical journey through magnificent landscapes and delightful anecdotes!
Django Belles: come into the magic of Christmas and winter !
Django Belles whisks us away in a musical frenzy celebrating winter in all its forms! With this repertoire of songs and instrumental pieces, Django Belles is a colorful show that's playful, poetic and funny, with a devilish swing supported by some surprising arrangements. On this show, the band is enriched with the swing of two exceptional brass players, a trumpeter and a trombonist !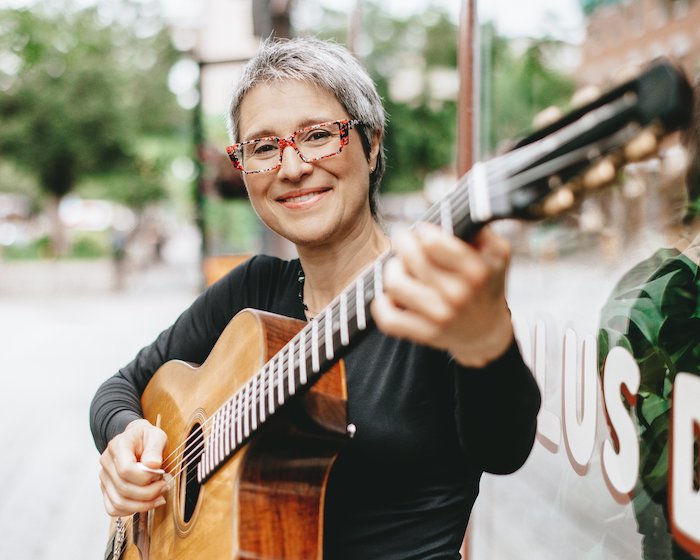 Christine Tassan - Lead gutiar
Lead vocals, songwriting, arrangements Music director and leader of the band
At the helm of les Imposteures since their formation, and with a successful career as a guitarist spanning over 20 years, Christine Tassan is now a prominent figure in the gypsy jazz scene. A loyal ambassador of the genre, she is also one of its rare female leading soloists. An excellent composer, a fine melodist, a first class improvisator, and a sensitive singer, Christine plies her craft with finesse, brilliance, self- confidence and an infectious dynamism.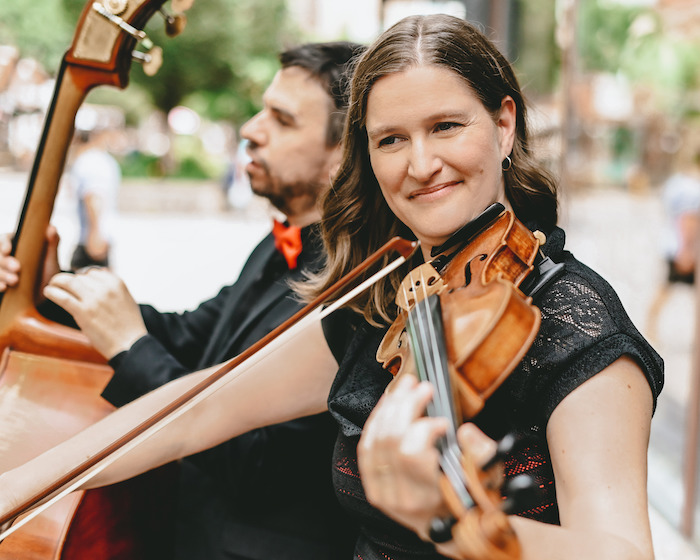 Vocals, arrangements
A remarkable violinist, Martine Gaumond makes her instrument vibrate with a high voltage that affects the crowd with equal intensity. An excellent improvisator, she handles her bow with disarming ease and opens the door to the most beautiful poetic bursts. She also makes use of incredible vocal talents, weaving subtle harmonies that elevate the ensemble.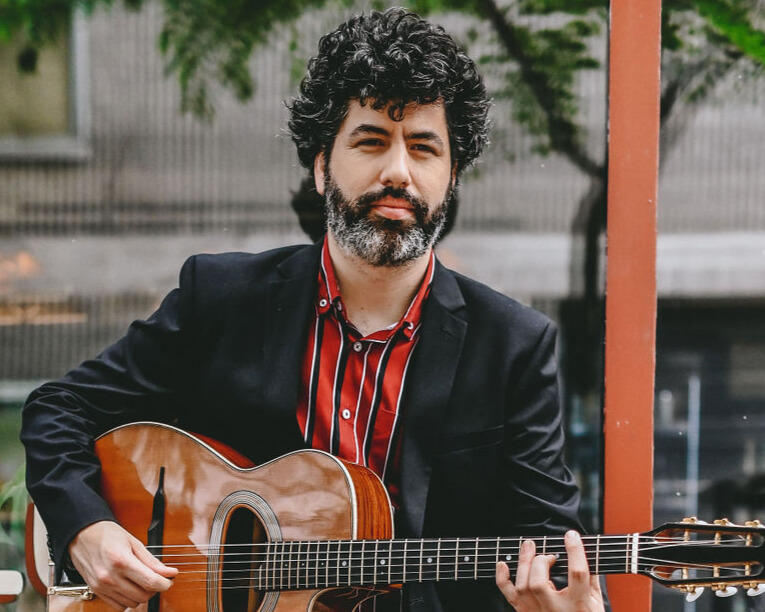 Vocals, arrangements
Solid as a rock on rhythm guitar and solos, Jeff is a jazz guitar specialist. He plays in several Montreal bands, adding his personal touch to every project. Recently arrived within the Imposteures, he knew right away how to adapt his energy to the band, bringing his passion and various musical influences, which include Bulgarian folklore and swing music.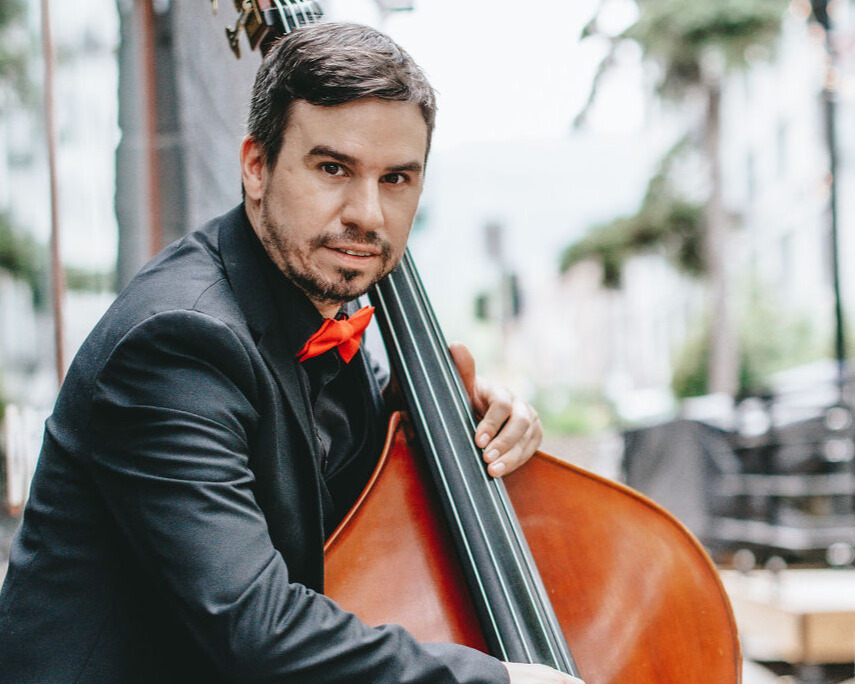 David Meunier-Roy - Bassist
Vocals, arrangements
An experienced musician, David excels in double bass. A graduate of Cégep de Sherbrooke and the University of Montreal in Jazz, he blends jazz, rock, pop, folk, and funk. He has performed in Quebec, Ontario, and worldwide on cruises. He effortlessly anchors the group's rhythmic foundation while delivering some well-placed solos, driven by his passion and energy.
Invited musicians on DJANGO BELLES show/album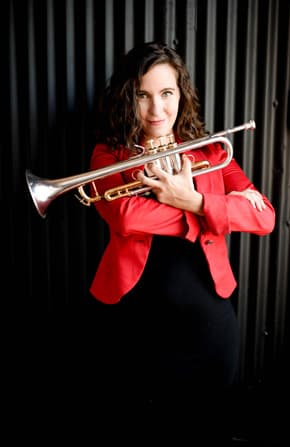 Trumpet.
Justine Verreault-Fortin, a wonderful trumpeter, plays with such ease that she makes us travel in her universe, both touching and full of energy. With her contagious smile and great happiness, she knows how to push the perfect note to draw us the right emotion, from laughter to tears. Also arranger, she received her bachelor's degree in Jazz Performance with distinction. On stage, she reveals her personality through her instrument: striking, delicate, with a jazzy touch!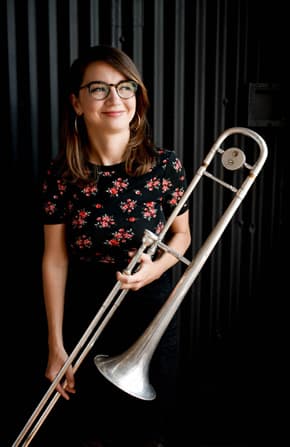 Trombone.
Like the extensive register of her trombone, Karine Gordon knows how to go from high notes, through her communicative humour, to low ones, through her great sensitivity. An outstanding improviser, she lets her emotions emerge through her music and a nice craziness. Far from hiding behind her instrument, it is on the contrary through it that she expresses herself, communicating to the audience joy and happiness!