Christine Tassan Quintette
Guitarist and composer Christine Tassan, who has become known for her gypsy jazz group and wonderful impostures (Christine Tassan and the Imposteures), adds other chords to her art. Here she comes with an inventive personal project of ten instrumental compositions: Voyage intérieur, launched in September 2020. The album recorded in quintet reveals jazz, electric and bebop sounds.
In 2021, the album was nominated for the JUNO AWARDS, ADISQ, OPUS AWARDS and GAMIQ in the Jazz Album of the Year category. Quite a feat!
Involved on the gypsy jazz scene for well over 20 years, Christine felt the strong urge to explore a new style, new sounds, moods, and arrangements while touring with Les Imposteures. Halfway between the guitarist's European influences and the pulse of North American jazz, her album opens the doors to an impressionistic universe colored by intense melodies and varied rhythms that take us on a journey from bolero to swing, and from bossa to funk.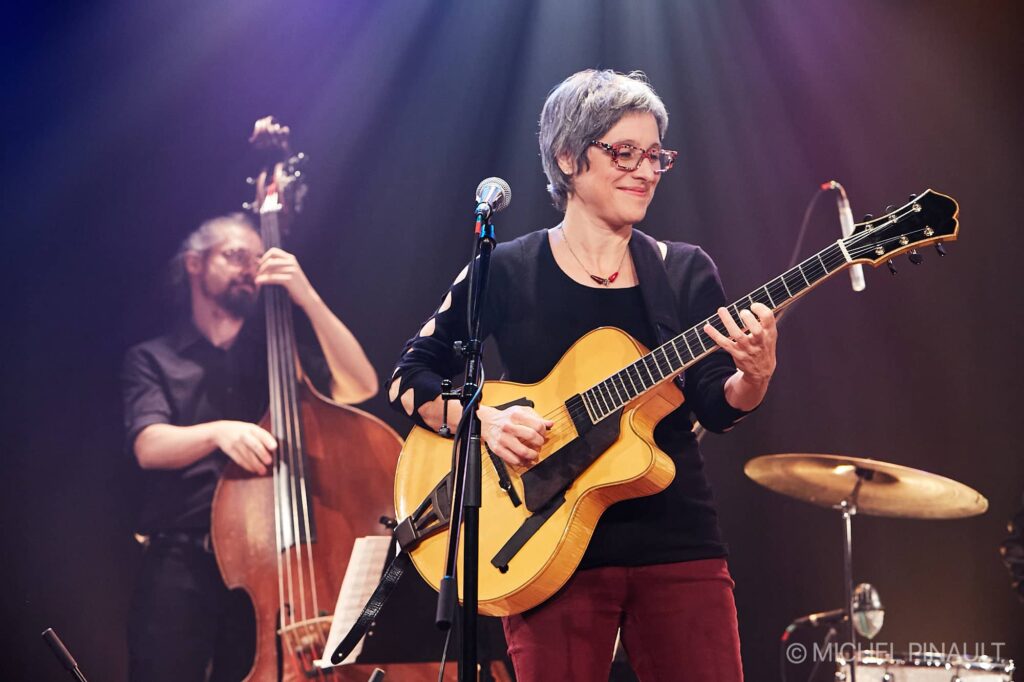 Christine Tassan - Guitar, compositions, arrangements
This time on the electric guitar, the magical touch of Christine Tassan, seductive, energetic and melodious, does the work. Blessed with an absolutely contagious dynamism, she is one of the rare female jazz and gypsy jazz guitar soloists; and she stands out for her sensitive playing, her quiet strength, and her irresistible audacity.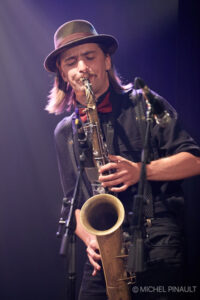 Aurélien Tomasi - Saxophone, Clarinet
A multi-instrumentalist, composer, and arranger, Aurélien Tomasi is the musical director of Gypsy Kumbia Orchestra, a band with whom he regularly performs in Quebec and abroad. With Sesquialtera, he offers his most accomplished musical project to date. Aurélien has also recorded, composed, and arranged for numerous productions, from Cirque Eloize to Les Grands Ballets Canadiens. During his studies at the Université de Montréal, he obtained the prestigious Sophie Desmarais Scholarship for his participation in the Big Band as a saxophonist, clarinetist and flutist.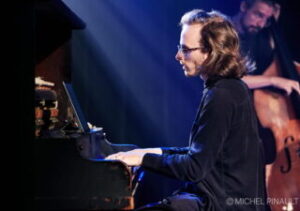 Developing a singular sound through the years, Yannick shows great sensitivity and unique creativity. This leads him to be involved in the Fad'azz project of the Portuguese singer Suzi Silva, which mixes fado and jazz. He plays alongside Sergiu Popa and Olivier Babaz and performs among others at the Astral and the Outremont Theatre. His creativity brings him to participate in emerging jazz projects with drummer Frédéric Hébert (l'Aube, 2019) and guitarist Jean-Michel Leblanc (Variétés Narratives, 2019).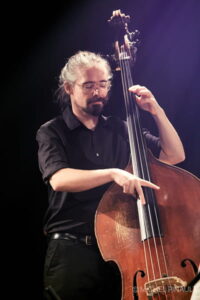 Hugo Blouin - Double bass
Active since 2005, Hugo Blouin's musical trajectory is linked to the jazz and folk scenes, with some forays into songs, poetry, and contemporary music. He is actually leading the project Charbonneau ou les valeurs à bonne place, which won the Jazz Concert of the Year Award (OPUS 2019) and the Jazz Album of the Year Award (GAMIQ 2018). He is a member of the group MAZ, (official selection at WOMEX17) and of the Trio Jonathan Turgeon (Stingray Rising Stars Award at the 2018 Montreal International Jazz Festival.) Hugo Blouin has participated in about twenty albums, as a performer, composer and director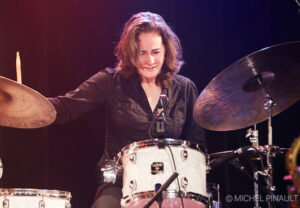 Discovering the drums around age 15, Maude Bastien decided to devote herself entirely to the instrument upon beginning her college studies in music. Since then, she has enjoyed being completely involved in the exploration and mastery of her instrument. Maude's passion has allowed her to play with excellent musicians in Canada and in a few places around the world, notably in Nicaragua, Nunavik, the United States and China.